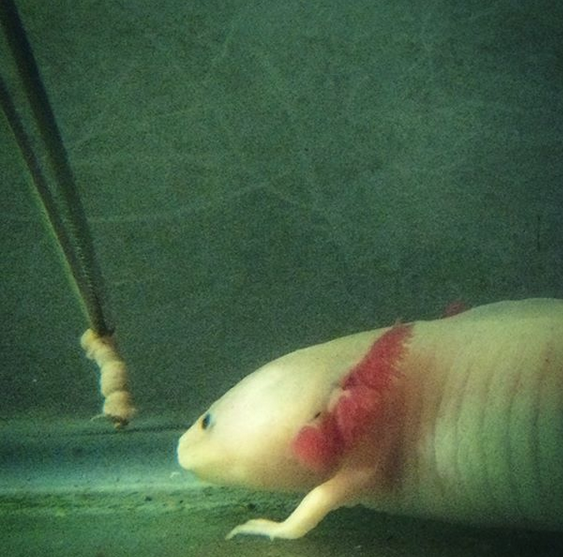 1. Moving stress
It's not uncommon for axolotls to refuse food for a few days when they first arrive in a new home. Keep in mind, s/he is trying to adjust to a whole new environment, including a new owner, and possibly different food and feeding methods. Be patient! S/he will warm up to you once s/he realizes that there is nothing to be afraid of.
2. Problems with the food
Axolotls may ignore or spit food out when it's too big, too hard, or it just has a nasty taste. Try cutting overlarge food in half. You can use scissors to cut up large earthworms, or a pill cutter to cut overlage pellets. Choose a pellet that softens rapidly in water. Avoid worms that taste bitter, such as red wigglers (Eisenia fetida). To avoid spoilage, don't buy larger quantities of dry food than your axolotl can consume in approximately one month, and try to reseal the package properly after use. Don't allow frozen food to thaw and then re-freeze.
3. Ammonia issues
Ammonia makes axolotls queasy, so they may refuse food or even throw up. If you're keeping your axolotl in a tank, make sure your filter is properly cycled. In a tub, remember to do a full water change every day!
4. Aggressive tankmates
If your axolotl is moving away from food or staying hidden at feeding times, they may be afraid that moving towards the food will draw in their neighbor's wrath — especially if they've gotten nipped at before. The solution is to feed the more aggressive axolotl in a separate container. If you're worried about nipping at other times, it's best to rehome the aggressive axolotl to another tank entirely.
5. Impaction
If your axolotl refuses to eat for several days in a row, they may have swallowed something that caused a blockage. I will be writing a separate article on the issue [coming soon!], but in the meantime, feel free to email me if you need help with this issue.